BELLAIRE AT STONE PORT WELCOMES NEW RESIDENTS.
As we all experience the light of hope at the end of the tunnel as the Coronavirus pandemic reaches a recovery phase, we at Bellaire at Stone Port, continue to build and monitor our enhanced safety and cleaning protocols to create an environment that helps seniors manage the long-term effects of the COVID-19 pandemic. We will continue to follow all Centers for Disease Control (CDC) and Centers for Medicare and Medicaid Services (CMS) guidelines relating to the recovery phase of COVID-19. 
As always, we remain committed to our residents' health, safety, and well-being and our team who care for and support them. It is moments like these that we remember our true calling and what brought us to senior living. We truly love our residents and team and consider them to be members of our own extended families!
When We Are Caring with H.E.A.R.T.™, We Are All Family™
Want Important Community Updates?

Text "STONE" to 855-906-2913
Pursuant to our desire to keep our families and residents informed of any changes associated with our COVID-19 prevention efforts we have established an opt-in text number as an additional channel of communication for important updates. If you wish to receive updated information via text, please text the word "Stone" to 855-906-2913. Thank you in advance for supporting our protocols and assisting with keeping our residents, families and team members safe.
A COMMUNITY MESSAGE
CURRENT LETTERS (DOWNLOADABLE PDF)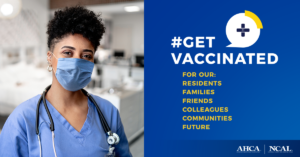 #GetVaccinated Educational Series: (please click below on downloadable PDFs)
RECENT ANNOUNCEMENTS:
2022
2021
2020
RESOURCES: