A child stepping up to the plate and caring for an aging parent is a beautiful demonstration of love. Between your parent's increasing need for assistance, new conditions like dementia, or declining health can all lead to the need for professional care.
It's important to remember that transitioning to a senior community doesn't mean an aging adult is surrendering their independence. The goal of the teams in most assisted living or memory care communities is to provide each resident with as much independence as possible while maintaining their comfort and safety.
Signs it's Time to Consider a Senior Community
There isn't a single sign that means an older adult is ready to make the move into a retirement community. Each person's needs or combination of needs is different.
Things such as how well your senior parent can accomplish things themselves, their cognitive ability, or general health and safety concerns can all indicate it may be time for professional care.
Trouble With Activities of Daily Living
Activities of daily living (ADLs) was a term first used in 1950 to describe the fundamental skills necessary for a person to care for themselves safely and effectively. Eating, bathing, or mobility are examples of necessary skills.
As we age, sometimes we simply can't do the things we used to do. If you're caring for your older parent, it's likely they already need some assistance. But eventually, this may get to a point where you cannot provide adequate care.
Alternatively, respite care may be a great solution if an adult child caregiver simply needs a break. Otherwise, an assisted living community might provide the assistance your loved one needs.
Cognitive Decline
Many people think of dementia as a normal part of aging, but that isn't the case. Some age-related memory changes are normal, but dementia can affect much more than memory. Reasoning or judgment, visual perception (beyond regular vision changes), and attention can all be affected by dementia or a disease like Alzheimer's.
In the early stages of dementia, an adult child or close family friend may be entirely capable of caring for a loved one. But eventually, the caregiver could experience burnout or simply not have the knowledge or experience necessary.
Some senior communities have teams of people who can offer memory care programs. These living situations are designed to accommodate seniors with specific needs surrounding their cognitive decline.
Health & Safety Concerns
A major reason that communities exist to help seniors is for safety. For example, suppose an older adult begins forgetting to eat regularly or cannot wash properly. In that case, their safety and well-being could suffer.
Declining health could also suggest a family caregiver should seek help. It's important to note that the type of health issues may determine which type of senior community is right for the parent.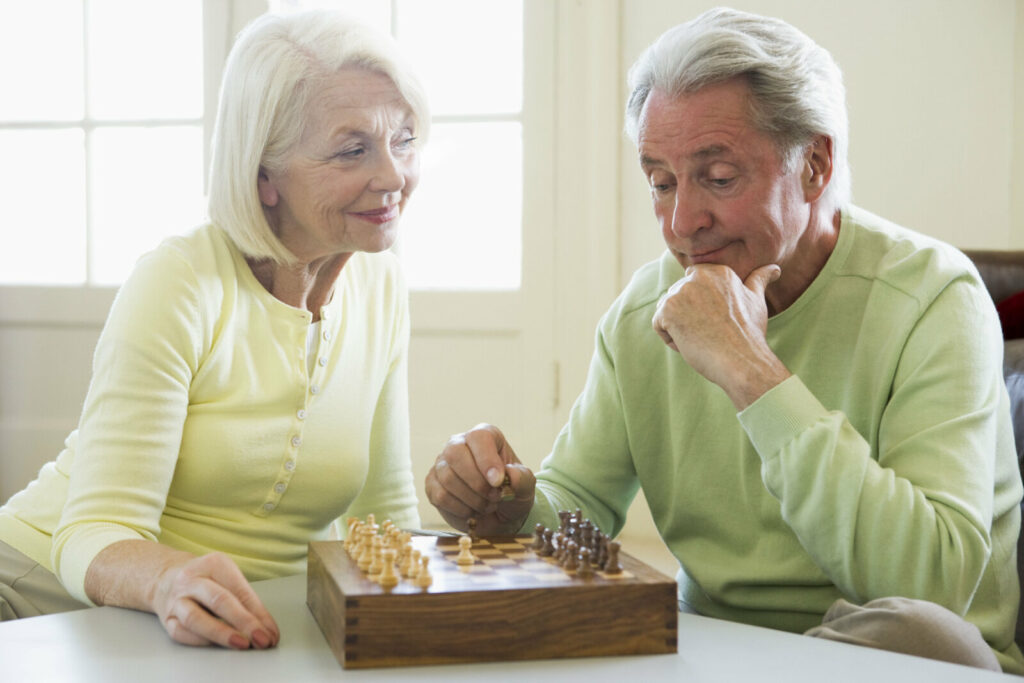 Assisted Senior Community Options
Many types of senior housing options exist, from independent communities to care homes to 55+ communities. We're exploring a couple of types of assisted living situations today.
Assisted Living
When talking about assisted living, most people refer to a senior community where professional caregivers provide daily assistance for a wide range of needs, such as eating or cooking, bathing, remembering medications, and access to medical care.
This could also be an at-home living situation where a senior remains in their family home, and professional caregivers come in and provide the necessary assistance. But a significant perk for many seniors is the socialization they get from being a part of a community.
There are often opportunities for socialization indoors and out in many different senior communities.
Memory Care
Some assisted living communities are specialized in the services they provide. A community with a memory care program typically has caregivers with specific training. This specialized training equips the teams to support their residents with dementia, and they have the necessary knowledge to de-escalate tense situations.
Additionally, the buildings themselves—hallways, common areas, and outdoor spaces—are all typically designed in a way that helps ensure the safety and comfort of residents. For example, hallways may be color-coded for less confusion. Outdoor areas are typically secured to allow residents access to the fresh air. Or a memory care community will often have increased security as well.
Discuss Your Options With Bellaire at Stoneport
The transition to a retirement community can be filled with emotions and frustrations for everyone involved. But it doesn't have to be that way. Reach out to our compassionate team today. Allow us to answer your questions about the road ahead.
If you're ready to consider retirement in Harrisonburg, book a community tour to see how Bellaire at Stoneport can provide your parent with the care they deserve.