Maybe it was something small, like a bit of dizziness or lightheadedness when you stood up. Maybe it was something more serious, like stumbling when you're walking to the couch. Either way, we've all fallen at some point in our life. But why does it happen more often as we age?
Our bodies are always adjusting as we age. Between the changes to our muscles, joints, blood pressure, circulation, and even the medications we take, our sense of balance can be affected. It can also be caused by other medical conditions or concerns.
Between our physical environment and the changes our bodies naturally make as we age, falling can become more and more hazardous as we age. Fractures or broken bones aren't exactly the most pleasant experience, after all! Your overall physical safety is important, so by being proactive and taking steps to reduce the risk of falling, you can make a big difference to your health and safety.
If you or a loved one has started losing their balance more often, it may be time to think about assisted living. These communities, like Bellaire at Stone Port, are designed to allow their residents as much independence as possible while still making sure they have access to all sorts of resources to help them with any needs they may have.
What Can Cause Seniors To Lose Their Balance?
Balance-related issues are an extremely common occurrence as we get older. Our bodies naturally begin to slow down and we lose muscle mass. When you include this and any other environmental factors, it's no surprise that we find ourselves falling more and more often. There are many causes that could contribute to an increased risk of falling, but some of the more common ones are listed below.
Physical Changes to Our Bodies
Our bodies are constantly adjusting as we age. With changes to our muscle mass, bone density, circulation, joints, and more, we're constantly changing and adjusting accordingly.
With the changes to our muscles and joints, our stride itself can often change. The muscle memory you've had for most of your adult life could seem like it's suddenly working against you
Medication
One of the more common causes of falling is a simple one: medications. If you've recently switched to a new medication and have started noticing periods of lightheadedness or dizziness happening more often, speak with your doctor as soon as you can. It could be that the new medication is directly causing the problems, and a medical professional can help!
Medical Conditions
Many medical conditions could lead to an increased risk of falling. Some of these conditions include:
Diabetes
Issues with blood pressure
Issues with circulation
Inner ear problems
Anemia
Dementia
Alzheimer's
These are not the only causes of falling. If you've noticed that you've been falling more often, or have been experiencing lightheadedness or dizziness more often, speak with your doctor as soon as you can.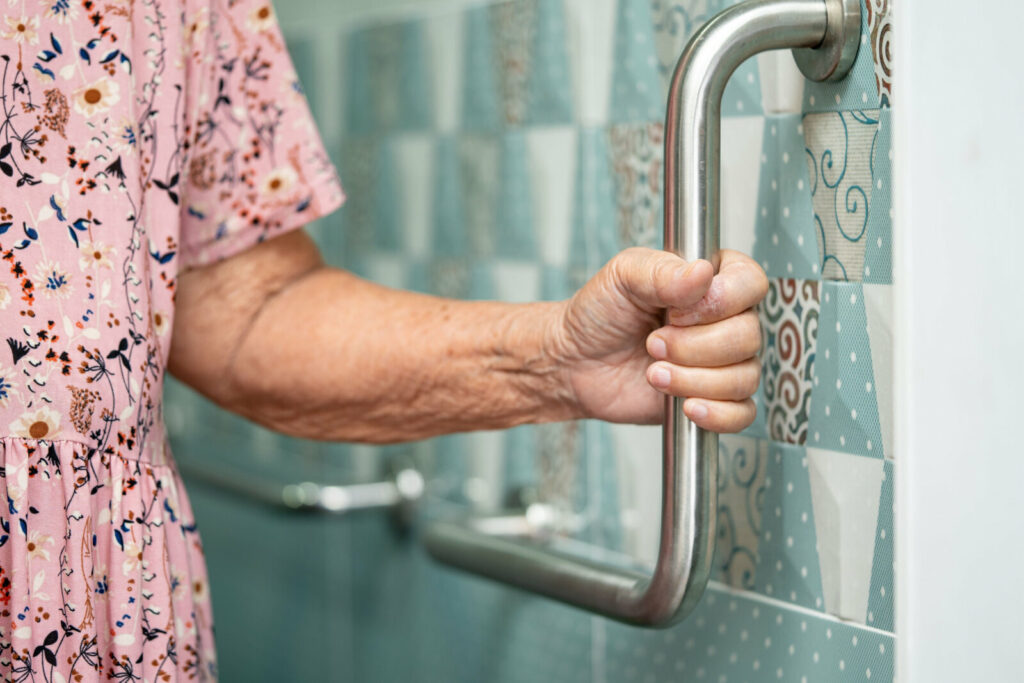 How to Reduce Fall Risk for Seniors
There are many steps you can take to reduce the risk of falling in your day-to-day life.
By actively engaging in balance-related exercises or classes, you can help build and train the muscles needed to help you stay upright. By training these muscles often, you can significantly reduce your risk of falling.
It also may be time to start looking into mobility devices like walkers or canes. Speak with your doctor and ask what they'd recommend to assist you with getting from place to place. These devices are a convenient way to reduce your risk of falling.
Taking a proactive approach to adjusting your environment to suit your needs is also an excellent way to reduce the possibility of falling. There are tons of devices and accessibility options available to add to your home to make sure you stay as physically safe as possible, and many of them are simple and cheap. Some of these options include:
Extra railings for the stairs
Nonslip treads for the stairs
Grab-bars for the shower or near chairs
Handrails in the hallways
Ramps for entryways or small stairwells
By making sure that your home is as accessible as possible, you can actively prevent the risk of falling. Try to clear all the walkways, hallways, and used floor space of any potential tripping hazards!
Assisted Living Communities
However, one of the best ways to reduce the risk of falling is to be in an environment surrounded by people who can help. Assisted living communities, like Bellaire at Stone Port, are communities designed to help. These communities have a strong focus on ensuring residents can be as independent as possible while still having access to assistance with any day-to-day needs.
With access to fitness programs designed to help build muscle, a team of trained medical professionals on-site, and even alert devices in case of a bad fall, assisted living is an excellent choice if you or a loved one is concerned about falling and getting hurt.
Being surrounded by a community that cares can make a big difference, and that's just what we are here at Bellaire at Stone Port — a community. If you or a loved one is in need of a safe and comfortable environment with access to a well-trained team of caregivers, schedule a tour with Bellaire at Stone Port today. Let us take your worries away!