In this day and age, technology can provide us all with unprecedented convenience and many benefits, so why not use it?
Seniors can benefit immensely by taking advantage of technology and tools such as smart home devices, online shopping platforms, video conferencing apps, social media sites, and health management apps. 
Amazing modern technology can help seniors lead healthy, independent lives. This blog post will go over how these tools can help seniors.
5 Pieces of Technology That Can Help Seniors 
As technology continues to evolve and become more accessible, many seniors find that it helps them stay connected with their loved ones and live with independence.
Let's look at 5 pieces of technology that can help seniors. 
Smart Home Devices 
Today's smart home devices can give seniors greater control over their homes and keep them safe.
Smart lights, door locks, thermostats, smoke detectors, and security systems can use voice commands or an app on a smartphone or tablet to operate. That means seniors don't need to get up if they don't want to—they can stay in the comfort of their chairs and simply issue commands to the device.
These devices can also be connected to other devices that integrate with smartphones and smart home systems, where you can add reminders or set alarms. 
Online Shopping 
Thanks to online shopping, seniors no longer have to leave the house to purchase needed items!
With online shopping sites that offer easy-to-navigate user interfaces specifically designed for seniors, ordering what someone needs can be simple and easy.
Additionally, online grocery shopping now has extra options for convenience with the introduction of grocery delivery services. With the click of a few buttons, seniors can now skip the hassle of going out to the store and instead have their groceries delivered right to their doorstep.
Video Conferencing 
Video conferencing is becoming increasingly popular among seniors. Not only is it possible for friends and family members who live far away from each other to see each other in real time via video chat, but it's also one way seniors can reduce loneliness and social isolation.
Additionally, video conferencing can be used for telemedicine appointments so that medical professionals can provide medical advice remotely instead of requiring patients to travel long distances just for an appointment with their doctor or specialist.
Social Connection 
It's important for everyone to take part in social interactions throughout their lives. Research shows that people who remain socially engaged tend to live longer than those who don't.
Thankfully there are plenty of ways for seniors to remain connected even if they don't live near family members or close friends. For example, social media sites provide an easy way for seniors to stay connected with their family and friends.
Health Management 
Technology has become an invaluable tool in helping seniors manage their health. Many apps can track medications, provide reminders to take medications or make appointments, monitor physical activity levels, remind seniors to drink water throughout the day, offer dietary guidance, and more.
Health monitoring devices allow physicians to continuously monitor vital signs such as blood pressure, heart rate, oxygen saturation levels, and temperature. These devices help doctors spot changes in a patient's condition quickly and respond faster if needed.
Lastly, with technology at their fingertips, seniors can easily access healthcare information from the convenience of their own home.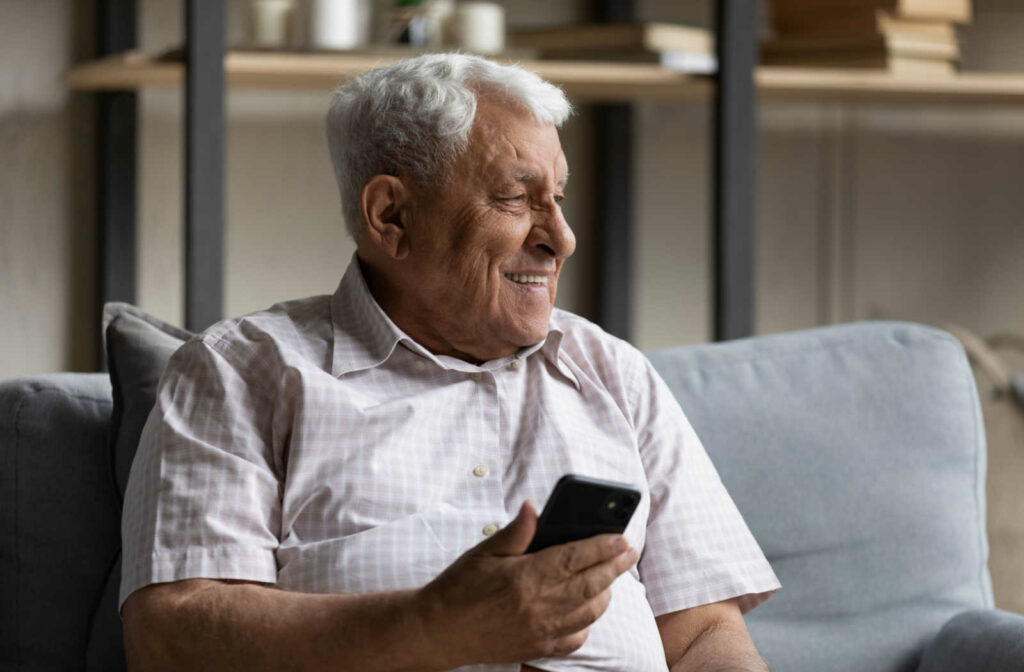 The Benefits of Technology for Senior Living: Staying Safe, Engaged, and Independent
Technology can be a great asset for seniors in many areas of their lives. It is important to keep up with trends and help our senior loved ones use the right tools and technology to stay safe, engaged, and independent.
Bellaire at Stone Port provides a supportive assisted living community where seniors can thrive. Our senior living programs are created to meet the needs of each resident with a variety of events, features, and forms of support. Our residents are given autonomy in shaping their daily lives and support from our team when they need it.
If you or your loved ones want to enjoy all the benefits of senior living while remaining active and engaged with life, schedule a visit with us today!